Keep It Safe
Stay off the approach, unless it is your turn to bowl and you are not interfering with bowlers on either side of your lane. If it is not your turn, step off the approach.
Never walk into another lane. You might interfere with someone else's bowling or safety.
Do not bring food or drink near the approach. Inevitably, someone will stick or slip on debris left near the bowling area. This can result in injury or death of someone who falls.
Remove Your Bowling Shoes if you have oil or other debris on them. Step off the approach and bowler's area to clean and dry your shoes to avoid tracking moisture or debris into the bowler's area.
Wear Bowling Shoes when bowling. Without them, you are susceptible to falling down. When leaving the bowler's area, cover your shoes with protective covers. Also, if using these covers, remove them when returning to the bowler's area to prevent falling and transferring debris or moisture deposited on the protective shoe cover while not in the bowler's area.
Maintain a Good Pace
If you are distracted, or need to start over for any reason, step off the approach, regroup, and start over.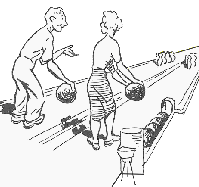 Who has priority? The rules of etiquette are similar to pulling up to a stop sign in your automobile at the same time as another car, the bowler on the right always has the right of way. Additionally, look both to the left and right to ensure you are not interfering with someone else.
Be ready to bowl when you it is your turn. Distractions, talking, snacking and restroom trips can detract from the enjoyment of everyone. Now, please, this caution should not preclude any of these tasks, but should remind you to be courteous to others. Also, any of these tasks involve safety, especially with debris or fluids affecting the bottom of your bowling shoes. It takes away from the fun of bowling when it's someone's turn and they are not to be ready. Pay attention, and when your turn is up, be ready to bowl.
Don't spend unnecessary time at the foul line after releasing the ball. As soon as your ball hits the pins return to your seat.
Be Kind to the Equipment, Facility and Others
Quiet, please! Never talk during another player's approach.
• Do not yell out while others are on the approach. Even if boisterous behavior doesn't bother you, there are other people on the lanes who may be within earshot.
• Be aware of your presence on or near the approach. Don't stand in a place that causes others to become distracted.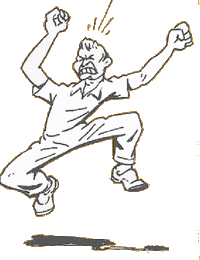 Stop overreacting. There will always be near you who are distracting. Simply, and quietly, step off the approach until the distraction stops, and ten proceed with your bowling in a normal fashion.
Control Your Emotions and Language. While bowlers let off steam during a failed attempt at a shot, or for any other reason, it is simply not polite to others who share the bowling center with you.
Keep maintain the agree to limit for the number of balls on the rack to ensure they do not jam the ball return.
Be a Good Sport. No one wants to share time with a sore loser or someone who is angry, irritable or speaks badly of others.
Respect the equipment and property belonging to the bowling center and others. That includes kicking or striking equipment, causing damage to seating and any other bowling furniture and flooring.
If you make a mess, clean it up! Take your unwanted snacks, empty cups, and other debris to the trash can where it belongs!